Skip to main
Turning Your Property into a Visual Wonderland
Featuring: Jerry Bowlen, Director of Horticulture at Yaamava' Resort & Casino at San Manuel
January 21, 2023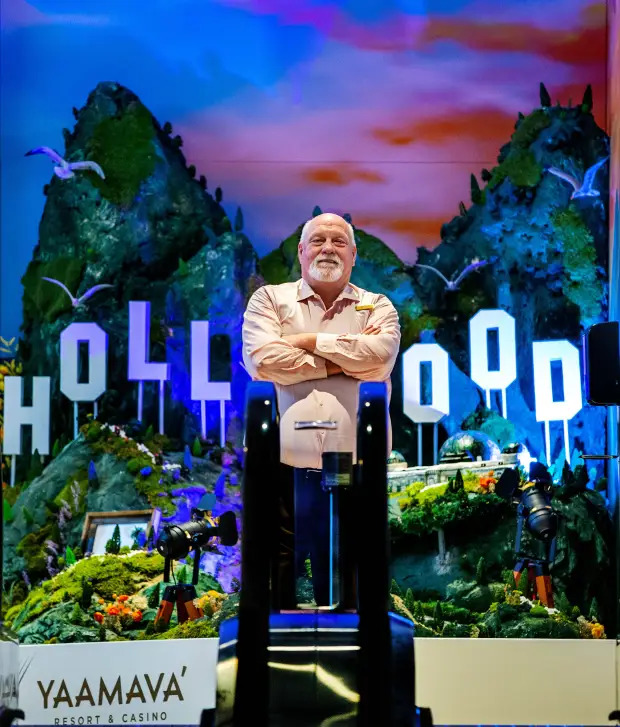 The Inside Scoop On Horticulture & Guest Experiences
When you think of horticulture, what comes to mind? If daisies and roses are your answer, think again. In Jerry Bowlen's words "Horticulture is an experience you create for other people to enjoy." As Director of Horticulture at Yaamava' Resort & Casino, Jerry Bowlen is no stranger to creating jaw-dropping visual spaces and displays. Through his vast landscaping and management career journey, his knack for construction and design has guided him to spearhead both the casino and hotel realms. Now, Bowlen is a master of his field, such that weaving organic materials like shrubbery, flowers and trees with holographics, light shows, and interactive moving displays are just the basics of his wheelhouse.
In order to better understand horticulture and its exciting opportunities, we asked Bowlen a few questions about his key insights on all of horticulture's moving parts. Through Bowlen's help, newcomers can delight in the unique possibility of following a career of strategy and creativity in one.
What's the Importance of Creating A Visually Pleasing Space?
First things first, what makes horticulture such a big deal? As Bowlen puts it, no matter if it's your home, resort, casino, or vacation destination- every guest wants to experience something beautiful. These unforgettable moments are essential for enticing your guests again and again. Millions of visitors will enter Yaamava's doors regardless of decor, but keeping guests excited and impressed throughout their visit is a different story.
How Do You Master Visual Identity?
Defining a space's visual identity is no easy task – it takes keen insight on your guests, collaboration of functionality and aesthetics, as well as creating a holistic mood and feel. To guide us on our way, Bowlen gave us three main tips:
1. Keep Your Visitors Engaged
Bowlen and his team have the exciting, yet daunting task of creating the best show guests have seen yet, meaning horticulture at Yaamava' needs to be constantly raising the bar. In order to keep visitors satisfied, visual spaces and displays need to be "wow-worthy," and stop guests in their tracks. Implementing intriguing light and movement displays are crucial to achieving this objective.
2. Balance Guest Traffic and Visual Displays
The success of visual spaces weighs heavily on the balance between guest flow and elaborate designs. Each area has to be heavily considered for guest entry and egress, in order to avoid any hiccups while perusing the casino or displays. Guests should naturally enjoy and delight in visual spaces – not be stuck in a traffic jam on the casino floor.
3. Consider Your Theme and the Mood of Every Area
Horticulture at Yaamava' relies heavily on themes created by Bowlen and his team. Before implementing any plans, vision boards are used to piece together each element, color, and landscape design to create a cohesive feel across every space. Each area's different uses and moods also need to be considered throughout a theme. Like Bowlen explains, contrasting pieces and elements are used to match the uses of different areas. In comparison to a luxury VIP Room designed with glitz and glam, a room of table games will feature a more subtle, earthy feel. Seamlessly blending themes with differentiated spaces requires detailed consideration and the keen eye of a horticulture expert.
What Should You Watch Out For In Horticulture?
Along with the roses comes the thorns – as well as sneaky bugs and critters! As part of designing a stunning visual space, watching for infestation and contamination is a full-time job. From soil to chemicals to sprays, Bowlen is constantly collaborating with vendors to oversee what's coming in and out of the casino to stop any bugs from multiplying in the area. As Bowlen puts it, his prevention tactics revolve around creating a positive guest experience free from conflict or interference.
How Has the Rise of Social Media Impacted Visual Strategy?
From creating engaging displays to staging "Instagram-worthy" pictures, as a horticulture expert, you have to be keen on what thrives on social media. "You need to make the scene or area interactive for your guests," says Bowlen. For example, Bowlen recently implemented a Yaamava' sleigh and Christmas tree set up, intended for picture-taking and social media purposes. In turn, Yaamava' received thousands of tags on social media, generating free advertising for the brand. By creating aesthetically-pleasing and functional displays, horticulture can serve as both entertainment and marketing.
How Should One Pursue a Horticulture Career?
Horticulture is a career of flourishing potential. If you're interested in pursuing a career in horticulture, Bowlen has a few tips to help your journey blossom. First, always treat the company's money as if it's your own. Through this conscious mindset, Bowlen stresses you will benefit both your boss' pockets and your career growth. Second, always be striving to work at the next level. "Don't think someone is going to give you something, think you need to earn it," advises Bowlen. With a can-do work ethic and dedication to learning, you have the power to show management you're capable and motivated to fulfill the highest level of your position.
Latest
Blogs



Like what
you're reading

?

Never miss our latest insights when you subscribe to our newsletter.