Skip to main
From Surveillance to Slots: An Inside Look at Slot Operations and Casino Floor Strategy
Featuring: Rodney Villhard | VP of Slot Operations at Yaamava'
August 5, 2022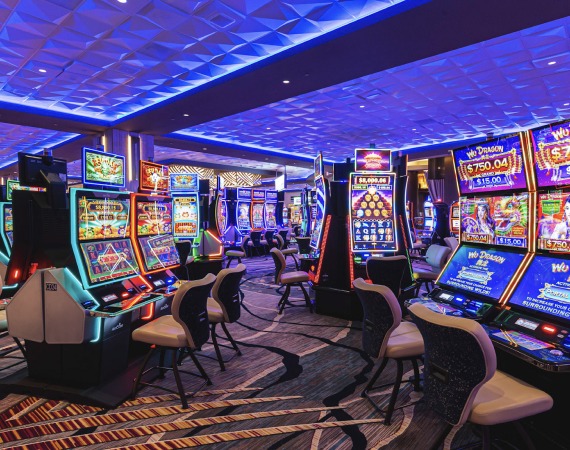 From Surveillance to Slots: An Inside Look at Slot Operations and Casino Floor Strategy
The house always wins, or so they say. But the people behind slot operations aren't stacking the odds against you. In fact, they're optimizing the floor to make your gaming experience enjoyable and fulfilling. And a lot more work goes into that than you may realize. Rodney Villhard, VP of Slot Operations at Yaamava' Resort & Casino at San Manuel, sat down to discuss how they're keeping up with current technologies and keeping consumer satisfaction as their main driving focus.
Getting the Bird's Eye View
Villhard began his career in surveillance, overseeing various areas within the casino space. This insight into every aspect of casino operations, from the floor to the food courts, allowed him to better understand where he fits in the casino world. He began his rise to VP of Slot Operations here and worked his way from surveillance to Slot Shift Manager to Director of Slots to Director of Table Games and all the way up to where he is today.
This evolution for Villhard was natural for him. As a player himself, Villhard wanted to understand more about how casino floors are optimized, how games are chosen, and how the biggest names in the gaming industry keep up with ever-changing technology. He knows what to look for in a well-working casino.
Helping Futurize Old-School Approaches
When Villhard began his position with Yaamava' Resort & Casino at San Manuel, he knew that despite the casino's high reputation and expansive floor, there were several opportunities to improve operations. Realizing what needed to be done, Villhard began deconstructing and rebuilding the way things were operated. Guest service positions were reorganized to better enhance guest experience while at the casino, and management positions were created to allow specific focus on areas within the casinos that needed more attention. Now up to 7,000 machines, Yaamava' is a leader in the casino and gaming industry.
The key to Villhard's approach? Expanding technology and focusing on the customer. The casino industry has always been behind in times of technology, however by developing technology, you can create a more seamless guest experience. Keeping players in action and getting them back in action quickly is key to growing and expanding your casino and gaming floor. Focus on the wants and needs of your customers while they are visiting your casino. Villhard said, "I approach the floor as I would want this to be somewhere I would want to go play." This means having a variety of machines with different types of gameplay and denominations giving the player the freedom to choose how much they want to bet. All this allowed for Yaamava' to gain its title of "Most Slots in the West" which is something Villhard remains pretty humble about.
Common Slot Misconceptions
But is the house really against you? Villhard gave us the inside look at the misconceptions about slot machines in casinos. And people seem to think there might be a few reasons why they aren't having luck at the slots, from assuming player cards interfere to wondering if the person upstairs is flipping the off-switch. It may seem like all of these are interfering with your winning streak at the casino. But in reality, the machines actually use a random number generator to determine each outcome, and the casino is looking for you to have the best experience.
There's a Strategy to the Floor
Believe it or not, there's a lot that goes into having the "Most Slots in the West". It's not just about having a large number of machines on the floor. You have to analyze the gameplay, review the data and understand your guests. Villhard mentioned, "It's a slot machine, but there are many different options and features about them. They play differently." Knowing your floor and understanding how to optimize it can allow for smoother operations and a better working structure and overall happier guests. And always be looking toward the newest machines and whether or not they might be the right fit for your market.
Villhard recognizes the title his casino has and strives to continue to hold this title. He approaches his floor in a forward-thinking manner, making a comfortable guest experience the most important feature. While being a recognizable name in the west coast casino industry, that doesn't mean they can start to slow down. Rather they must keep their momentum of customer satisfaction and floor strategy going to maintain customer retention and bring in new players. Continuing this aggressive approach has kept Yaamava' Resort & Casino at San Manuel at the forefront of the casino industry and a best-in-class example for others.
How Should Someone Get into Operations?
If you are looking to enter the world of operations, Villhard has a few tips for you. He stresses the importance of being open to learning, and that means everything and anything. Dive into the casino industry and go outside of your comfort zone. Seek out new experiences and discover different areas, then follow what you are drawn to. After you find something you are interested in, set goals for yourself and pursue everything with passion.
Latest
Blogs



Like what
you're reading

?

Never miss our latest insights when you subscribe to our newsletter.